Sep 19, 2019 05:30 PM to 07:00 PM
MB 9CD
Registration Deadline:
Sep 19, 2019 08:00 AM
Target Audience: B.Comm, B.Admin, MSc.
Majors: All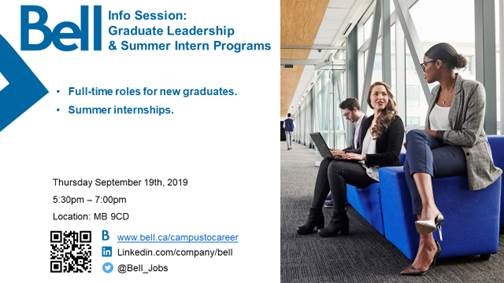 Bell Info Session
Information
Attention graduating class of 2020 & 2021!

Our interns & new grads are making big things happen at Bell. They collaborate with inventive and highly motivated people to experience and influence the development of the hottest technologies and participate in truly innovative projects.

If you're ready to kick-start your career, Bell is an amazing place to work. We're looking for smart, curious and passionate students & grads from a variety of disciplines, to join our team of more than 1000 grads currently making an impact at Bell. With Canada's largest and most diverse communications company, we're sure you'll find lots to be excited about.

Join us for an information session on Thursday September 19th, 2019 (5:30pm – 7:00pm) find your perfect fit at Bell, whether you are interested in marketing, data science, AI and machine learning, finance, human resources, operations, project management, the Internet of Things, and more.

Sign up now!
Agenda

About Bell
Bell Graduate Leadership Programs (GLP)
What it's like to Work at Bell
Networking Session
Full Time Opportunities by Program

Full time job offers for the following Programs (2020 Grads)
*Finance
*Human Resources
*Field Services
*Marketing, Operations and Applied Technologies
*Bell Business Market
*Business Intelligence
Summer Internship Opportunities by Program

Summer job offers for the following Programs
*Finance (2021 Grads)
*Field Services (2021 Grads)
*Business Intelligence (2021 Grads)
*Marketing, Operations and Applied Technologies (2021 Grads)
Target Students


New Grads from Bachelor or Master* (End of studies maximum by August 2020)
Students from Bachelor or Master* (Must Graduate in 2021, according the type of Program)
*Maximum of 1 year gap between the end of the Bachelor and the start of the Master to be eligible
Degree:
*Business
*Arts
*Humanities
*Social Sciences
Job Descriptions

Available by August 26th on www.bell.ca/jobs (will be posted on the School's Job board too)
Details of each program on www.bell.ca/campustocareer
PLEASE NOTE: If you sign up for this event, it is expected that you will show up. If you are unable to attend, you must deregister via ConneXions no later than 72 hours prior to the event time or you will be considered a "no-show". Cancellations beyond the 72 hour deadline received by email, phone or via Facebook will not be accepted.
*Please be aware of our no-show policy*
The dress code is business professional. No jeans & no leggings