Sep 19, 2019 12:00 PM to 01:30 PM
MB 9F
Registration Deadline:
Sep 19, 2019 08:00 AM
Target Audience: B.Comm, B.Admin,
Major: Accounting & Finance


Established in 1968, the

CN Investment Division (CNID)

manages one of the largest corporate defined benefit pension funds in Canada and holds a long track record of solid performance. Approximately C$18 billion is actively managed in-house by about 80 employees for CN's 52,000 pensioners and pension plan members. Investments are well diversified both geographically and by asset class, including equities, real assets (oil and gas, real estate and infrastructure), public and private fixed income, and absolute return strategies. CNID's culture is nimble, innovative, collaborative and risk-aware, with a focus on keeping current and future pensioners at the heart of what we do

The CNID Equity Challenge gives you a unique, real world chance to boost your skills as an equity analyst covering high quality stocks. Working with our team of professionals, finalists will gain on-the-ground experience to help prepare for life after graduation.

Sign up for this year's competition and learn from the mentorship and real-life experience of buy-side investment professionals, hone your skills by doing deep-dive stock analysis, pitch your stock ideas to CNID's expert investors and win a paid 2020 summer internship.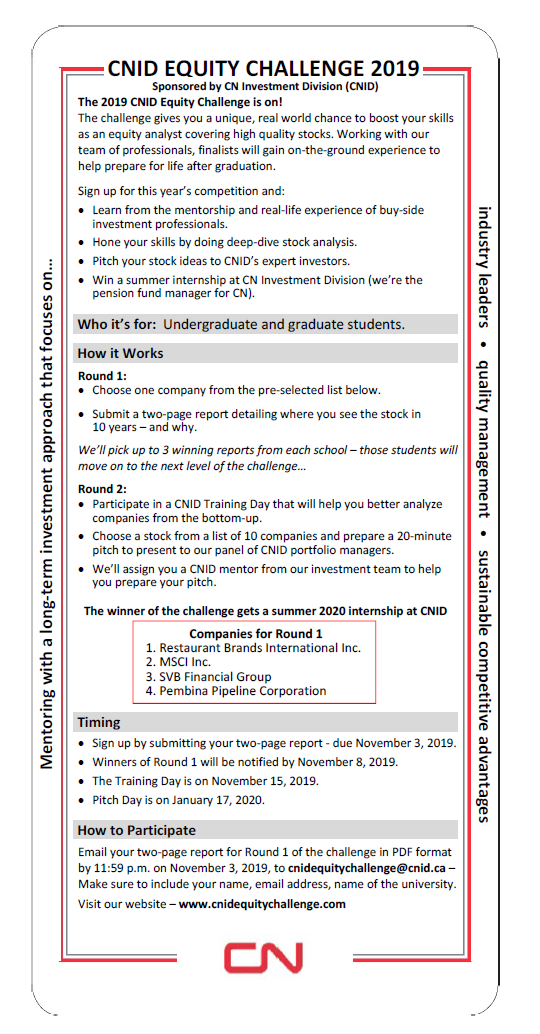 PLEASE NOTE: I
f you sign up for this event, it is expected that you will show up. If you are unable to attend, you must deregister via ConneXions no later than 72 hours prior to the event time or you will be considered a "no-show". Cancellations beyond the 72 hour deadline received by email, phone or via Facebook will not be accepted.

*Please be aware of our no-show policy*

The dress code is business professional. No jeans & no leggings